In today's digital landscape, mastering online tools and platforms isn't a luxury—it's a necessity. Yet, countless individuals including some OJT students, are left at the fringes, uncertain about how to navigate this evolving realm.
The Digital Imperative
Every click, scroll, and swipe that we do on the internet, contributes to the vast digital tapestry of today's age. Businesses are rapidly transitioning online, content consumption is predominantly digital, and job opportunities in the digital sphere are burgeoning.
The Busy Mice Team's Vision
In a rapidly digitalizing world, not everyone has kept pace with the changes, and many find themselves on the periphery, struggling to engage with digital tools and platforms that now dictate most facets of modern life.
Acknowledging this digital divide, the Busy Mice Team set forth a crystal-clear vision: to help bridge the gap between local communities and the digital realm.
It started In Mactan – Lapu-lapu City, Cebu Philippines, where the Busy Mice Team is located. It has launched revolutionizing community empowerment with specialized OJT modules for IT students through its hands-on approach to digital training.
A Hands-On Approach to OJT Digital Empowerment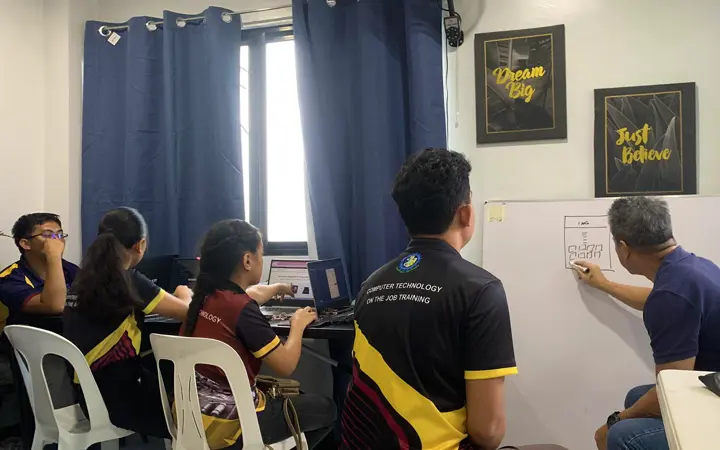 Recognizing that theory alone cannot foster understanding, the team provides practical training sessions. From the basics of website design to the nuances of social media algorithms, the Busy Mice Team has crafted a unique training model that goes beyond traditional theoretical classes.
Here's a closer look at the comprehensive On-the-Job training modules, which will surely enhance the OJT experience of IT students.
Website Design and Development: In an age where an online presence can make or break a business, this module introduces participants to the intricacies of crafting intuitive websites. Trainees not only learn the basics of website design but also get hands-on experience in developing and managing websites tailored to varied needs.
Content Writing: The digital age is as much about compelling narratives as it is about technology. This section equips trainees with the ability to weave stories and create resonant content for diverse online platforms, ensuring they connect with their target audience.
SEO (Search Engine Optimization): The vastness of the internet means visibility is crucial. Through the SEO module, participants grasp techniques to ensure their content ranks high on search engines, making it easily discoverable and thus, more impactful.
Social Media Management: Social media isn't just about sharing vacation snaps; it's a potent tool for branding, networking, and growth. This particular training, arms individuals with the strategies to effectively manage and grow a brand presence across platforms, ensuring they harness the full power of social media.
Video Editing: With video content reigning supreme, this module delves deep into the world of video storytelling. From cutting and editing raw footage to adding special effects, trainees learn the art of creating engaging video content that captivates audiences.
From Training to Tangible Impact
The immediate aftermath of Busy Mice's On-the-Job training will be obvious and noticeable. On-the-job trainees, once apprehensive about the digital world, now confidently undertake digital projects, secure jobs, or even initiate their entrepreneurial journeys.
Their testimonials will soon stand testament to the transformative power of these training modules.
Continuous Learning
The digital realm is ever-evolving. The Busy Mice Team doesn't just provide a one-off training; they ensure continuous engagement with alumni, providing updates on the latest trends and tools, and ensuring the community remains digitally agile and updated.
Empowerment Beyond Digital
While the primary focus is on digital skills, the team is well aware that empowerment is multi-dimensional. Soft skills, confidence-building sessions, and workshops on entrepreneurship are also part of their offerings, ensuring that community members are well-rounded and poised for success in any endeavor.
In essence, the Busy Mice Team doesn't merely aim to train; they aspire to transform.
Their vision is not just about teaching digital skills; it's about instilling confidence, fostering independence, and ensuring that in the vast world of the internet, every community member finds their unique voice and space.
Looking Ahead
While the impact has been significant, Busy Mice understands that the digital landscape is ever-evolving. Plans are afoot to introduce more advanced modules and expand the current curriculum.
The mission remains unwavering: to ensure every community member is equipped to thrive in the digital age.
In Conclusion
The digital age, with all its opportunities, remains inaccessible to many. Initiatives like Busy Mice's On-the-Job training are a step towards bridging this digital divide. As communities become more digitally fluent, they aren't just partaking in the digital revolution; they're actively shaping it.
.